I spent way too much time this weekend gathering snail mail addresses for the 250 (!) family photo holiday cards that we ordered and obligated ourselves to send.  As I e-mailed address requests to a few friends and contacts for whom I didn't have up-to-date info, I wondered why the heck we were doing this in the first place.  Why is it, in this day and age of digital communications, are holiday cards still the cultural norm?
My husband and I philosophized about this as we stamped and licked, with our kids zooming around us playing "roar" — a chasing game in which they simply run after one another and "roar."  In our grandparents' generation, people "visited" one another at this time of year. They'd stop by one another's houses on a Saturday or Sunday, have tea and cake and spend time with friends and extended family.  This practice is frowned upon today in our busy culture where time is sometimes more valued that family…. 
Holiday cards are the mid-20th century's vestige of the previous era's "visiting" custom. They are a once-a-year opportunity to show off our families, and thus ourselves, to our geographically scattered friends.  Holiday cards, to some extent, satiate our needs for holidayconnection, family showcasing and sharing our holiday spirit.
But, we're now in the increasingly-digital 21st century.  When will the 20th century holiday card custom become extinct and what will replace it? 
E-cards are starting to gain traction for birthdays, especially when Plaxo reminds us to send them.  Evites are quickly overtaking invites for parties and events.  But, nonetheless, the hard-copy holiday card prevails. Its  digital counterpart still seems cheesy and lacks authenticity, even in an era when our hands ache when we have to write a four-sentence handwritten thank you note but when we "Blackberry" and "text" like player pianos. 
Then in the midst of pasting, sticking and stamping, I got a Twitter direct message, or "DM," from blogger and social media consultant extraordinaire, Craig Stoltz (@craigstoltz), informing me about a post he'd just written entitled, "New Use for Twitter: End-of-Year Family Update Letters."  I encourage you to read Craig's post yourself, but the basic premise is that tweeting our year-in-review letters might be a better tact for both sender and recipient. 
I love his idea and encourage you all to use the hashtag that I've created based on Craig's post: #YIR (stands for Year-In-Review) and tweet YOUR year-in-review. 
Despite the 250 hard copy holiday cards for 2008, here's my #YIR: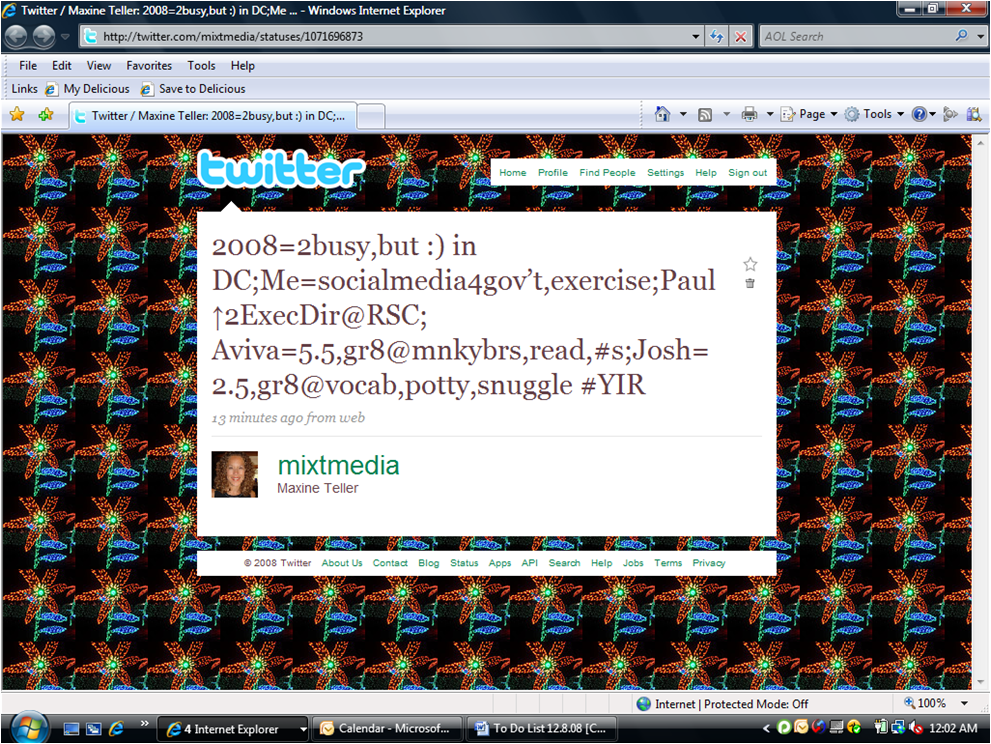 Medication errors can happen anywhere, but you can protect yourself. There are many of legal online drugstores that will offer legitimate discounts. Certainly it isn't all. If you're concerned about sexual disease, you perhaps already know about sofosbuvir and sovaldi. What professionals talk about sofosbuvir hep c? (Read more sovaldi). The signs of sexual problems in men turn on disability to maintain an erection sufficient for sexual functioning. Happily many problems with sexual soundness can be treated. Before purchasing Kamagra or any other generic, discribe your physician your soundness condition. Health care purveyor may order definite tests to rule out any other problems that may be contributing to the dysfunction. Get vocational help if you have any of these signs of a side effect to the remedy. If the medicament you are grab is not approved, your doctor can prescribe another prescription physic.